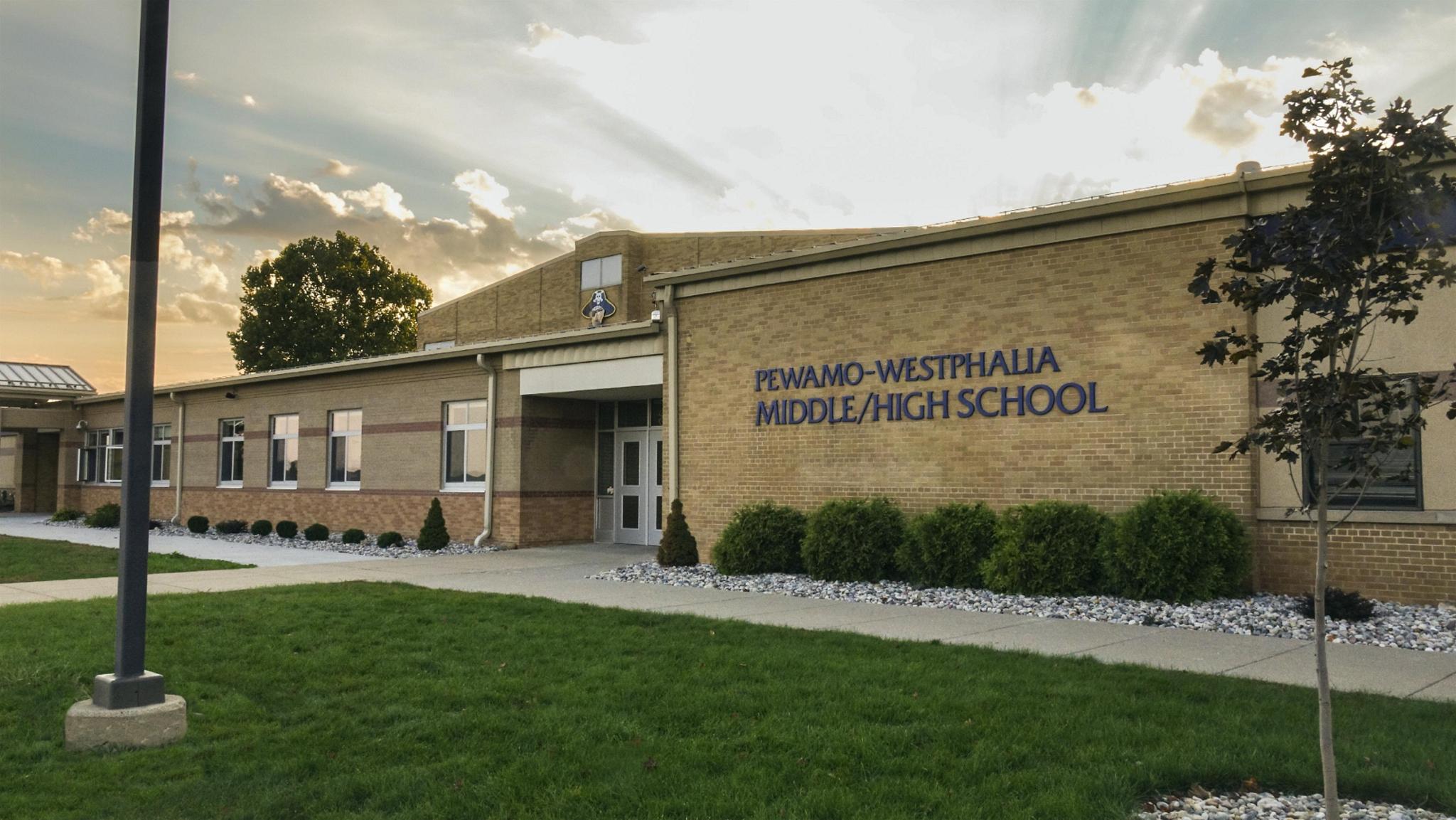 P-W Middle/High School
5101 Clintonia Road
Westphalia, MI 48894
Phone: 989-587-5100

Fax: 989-587-4075
Office Hours: 7:30am-3:30pm
Daily Class Schedule: 8:03am-2:57pm
Champions' Culture • Expect Your Personal Best
Chromebook Questions?
Please contact Mrs. Johnston
at sjohnston@pwschools.org or call 989-587-5100 ext. 5113
2018-2019 P-W MS/HS Vision Targets
Our 2018-19 MS/HS vision targets
#1 we will grow our champions' culture
#2 we will take positive risks, innovate wildly, and reflect on our craft
#3 we will support and mentor our newest staff and students
#4 we will increase parent engagement
#5 we will make our interim assessments meaningful in order to drive greater learning
#6 we will map our curriculum and design our pedagogy to ensure all students are learning
2018-19 Athletic Policy
Please take a look at our updated P-W Athletic Policy and Code of Conduct. This document contains very valuable, basic information including our Philosophy and expected Educational Outcomes of Participation in Athletics, as well as, more detailed information regarding Athletic Opportunities at Pewamo-Westphalia High School, Eligibility, our Code of Conduct, Department Procedures and Guidelines, and Guidelines for the College Bound Student Athlete.
Reminders for Parents and Students
Backpacks, hats, and hoods are not to be worn in the building during school hours for safety purposes. Also, please note that our new main entrance is the only entrance that students are to enter in the morning. Cell phones need to be turned off and stored in lockers, with the exception of during passing time and lunch for our HS students. Moreover, all teachers offer office/tutoring hours; please click here for a list of days and times and encourage your student(s) to take advantage of this valuable opportunity.
PWCS Now on FaceBook and Twitter
Stay connected with what is happening at school! Please search for us on FaceBook; we are Pewamo-Westphalia Community Schools with the blue and gold PW logo. Like the page, and you should begin seeing our posts in your newsfeed. We are also using Twitter. You can search for us using the search tool at the top; we are @PWSchools (again, with the blue and gold PW logo). As always, you can use our website as another source of information.
Communication Process
Questions, concerns, and ideas routinely arise during the school year. This outline is provided to assist in communication with the appropriate person.
Step 1: Questions or concerns regarding instructional practices should go to the teacher first. A discussion should be scheduled with the principal if you still have questions after talking with the teacher.
Step 2: If applicable, items not resolved in Step 1 should be directed to the administrator or director who has responsibility in the area of concern.
Step 3: A conference with the superintendent is most appropriately held if questions or concerns have not been adequately addressed at earlier levels.
Step 4: The final level of contact with the district about a question or concern is the Board of Education.
Middle/High School News - Archives

Back to News
October 20, 2017
MS Drama Presents Dear Edwina Jr.
The PWMS Drama Department will be performing Dear Edwina Jr. this Friday, Saturday, and Sunday in the HS/MS auditorium. Show times are: Friday, October 20 at 5:45pm, Saturday, October 21 at 7:00pm, and Sunday, October 22 at 3:00pm. Tickets are still available!
August 17, 2017
Genius Hour Projects Prove Successful
Every year, students in Mr. Rehmann's Computers 9 classes spend a portion of their time working on a Genius House project--a project that is entirely student created and implemented. Students choose projects that range from learning to play the piano or guitar to raising money for worthy causes. Last year, current sophomores Taylor Smith and Celina Pohl chose to raise money and provide donations to DeVos Children's Hospital in Grand Rapids. Below is the write-up Miss Smith did for their fall news letter:
"Mr. Rehmann assigned a Genius Hour project that challenged us to reach out to the community to make a difference. My partner, Celina Pohl, and I thought that giving to a children's hospital would be a great idea. We looked online and noticed that Helen DeVos Children's Hospital in Grand Rapids was accepting donations. Our project had a couple of parts. One was we raised money, purchased toys and delivered them to DeVos. For the second part, I was informed that a Wall Street brokerage firm, BTIG, has a Charity Day each year when they donate 100% of their trading commissions to charity. Their website shows that they really like to donate to children's causes. I contacted BTIG and asked if something like DeVos could be included. There were some forms needed, so I emailed DeVos and Devin Pierson got back with me. Devin gave me the information I needed. I got the forms to BTIG and they said that the Helen DeVos Children's Hospital would be able to get a donation. The Charity Day was May 2. It went very well, and we got a total of $19,000 for DeVos Children's Hospital."
Congratulations, Taylor and Celina! What an awesome experience, and thank you for representing PW well!
August 17, 2017
PW Staff Enjoy Summer Fun
As we gear up for another school year to begin, let's take a look back at what has kept our staff busy this past summer!:
"We spent 2 weeks in da U.P. at my Parents and had our annual surprise anniversary trip, where my Bride took me to Arcadia Dunes and Manistee bike riding." --Mr. Simmons
"I got married, went to Hawaii for my honeymoon, won my beach volleyball league, made my first garden (lots of tomatoes this year!) and am turning 24 our first day of PD!" --Mrs. Hess (formerly Dyer)
"I had a baby!" --Mrs. Tien
"This summer, we went to Niagara Falls, on the Canadian side. We spent most of our Summer on Higgins Lake at our cabin. We also went to Sleeping Bear Dunes and went from Burt Lake to Lake Huron through the Indian River." --Mr. Kurka
"June: Prepared the house, garage, and yard for our son's high school open house. July: Volunteered in the kitchen for Camp Barakel and was lead story teller for VBS. August: Rebuilt a deck and chaperoned band camp for a week for Williamston High School. Other highlights...Cascade Falls in Jackson, many trips to Sun Theater in Williamston, Lugnuts Harry Potter night, swimming, and bon fires in our back yard." --Mr. Keyes

December 19, 2016
P-W Makes 7th Annual AP District Honor Roll
The Michigan Department of Education announced on December 15, 2016 that P-W HS once again made the AP District Honor Roll. According to their press release, "to be included on the 7th Annual Honor Roll, districts had to, since 2014, increase the number of students participating in AP while also increasing or maintaining the percentage of students earning AP Exam scores of 3 or higher." Congratulations, students and staff, on your hard work!
December 15, 2016
New Sunday Shutdown Policy Takes Affect
Last April, in an effort to balance meeting the needs of our students/student athletes while also safeguarding our facilities and protecting important family time, the P-W School Board voted to adopt a new facility usage policy. Since the greatest savings in utility costs are through limiting access to areas beyond the front of the building, and to more clearly define participation times, the new policy restricts all activities on Sundays, other than off-season conditioning in the JH gym. We believe that this policy helps protect our facilities, honors the needs of our sports/extra-curricular/community programs and also will help define for parents what they can expect regarding their student's commitment to school activities on the weekend. For example, an in-season athlete knows that they may have a Saturday practice, but they are free all day on Sunday. An off-season athlete knows that they may have their conditioning workout on Sunday, but they are free on Saturday. We will continue to emphasize with our coaches and students that in-season athletes are not to participate in off-season workouts so every student will have at least one day every weekend where they can be confident they won't have any school activity. Any proposed activity, whether sports or extra-curricular, that would take place on a Sunday needs approval from the Superintendent. Exceptions will be granted for things such as our varsity teams wanting to practice in the fieldhouse on a Sunday before the district playoffs begin, making up for days of practice missed during the week due to weather, an end-of-the-season award night or drama rehearsal. Generally speaking, we hope this policy makes things very straightforward for our students and their families in terms of weekend obligations and also protect the facility while reducing costs. If you have any questions please contact Dr. Cooper at (989) 587-5100.
December 14, 2016
State Championship Teams Visit Local Elementary
On December 14, 2016, members of our state championship football and cross country teams visited St. Mary in Westphalia to share with future Pirates what it takes to become champion. Both teams focused on their process and the amount of time they put in during the season, but, more importantly, the amount of time they put in during out of season activities. An emphasis was placed on hard work, dedication, and putting the team before oneself. There are plans to have team representatives visit Pewamo Elementary and St. Joe soon!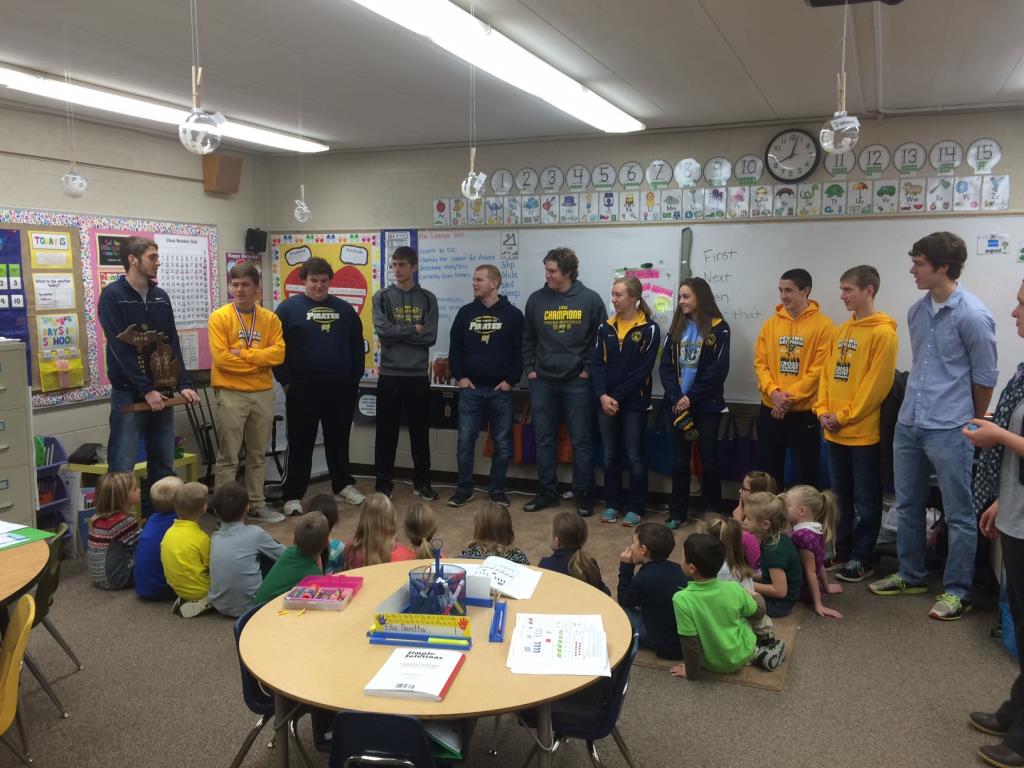 September 19, 2016
College Night at CCRESA Coming Soon
CCRESA will be hosting a College Night this Wednesday, September 21, 2016 from 6:00-7:30pm. Students are encouraged to pre-register for the fair on-line,and receive a bar code. Colleges will scan the bar code to collect information from interested students. The process will eliminate the need for students to fill out information cards at each table, reduce long lines,and provide greater opportunity to talk with representatives. There will also be two breakout sessions: "Financial Aid" and "Transitioning from High School to College: A Guide for Parents and Students." Please contact Wendy Smith at 989-224-6831 for more information. Click here for an informational flyer. Click here for pre-registration instructions.
September 7, 2016
M-STEP Results Released, PW Sees Improvement
This past spring, P-W students took Michigan's summative statewide test, the M-STEP, for the second time. This challenging online test measures higher expectations about what our students should know at the end of each school year, and requires students to write responses and show their work, instead of merely filling in a bubble answer sheet.
Students at P-W are performing better than the statewide trend, and improved, overall, in ELA, math, science, and social studies over last year, as our teachers and curricula adapt to new standards and testing methods. In fact, the Class of 2017 ranked highest in Clinton County in science and social studies, as well as had the highest average SAT score. The 2016 M-STEP feedback is an important tool for us to understand how well the district is serving students and where we can provide more support.
•Teachers and parents can use student scores to make sure they are doing all the right things. Working together, they can learn how to best support each child in order to improve their learning during the coming year.
•By reviewing school-wide results, principals and other district leaders can make decisions that are more likely to improve the services we deliver. Over time, each P-W graduate will be stronger and more competitive when it comes to career training, college, and in the workplace.
•District and statewide leaders will analyze the scores to assess the success of our efforts to close performance gaps between different groups of students. M-STEP results will help uncover inequities of learning and help us target resources to close those gaps.
At every level, these scores will be used as they always have been: to measure the outcomes that result from our public investment in education, and to help improve learning in Michigan's schools.
Students will begin bringing individual results home on Thursday, September 28, 2016. Parents can receive additional information by clicking on this link to view an informational video.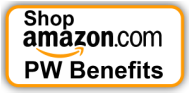 Upcoming Events
September 21, 2018
Picture Re-take Day
October 3, 2018
Count Day
October 5, 2018
Homecoming
Parade in Pewamo 5pm
VFB vs. Dansville 7pm
Dance after FB game until Midnight in MS Gym
October 10, 2018
PSAT/SAT Test Day
1/2 Day for Students--11:20am Dismissal
November 8, 2018
P/T Conferences 4:30-7:30pm
November 9, 2018
1/2 Day for Students--11:20 Dismissal
P/T Conferences 12:15-3:15pm
November 15, 2018
No School
November 22-23, 2018
No School--Thanksgiving Break
December 9, 2018
PWMS/HS Christmas Band Concert
December 18, 2018
1st Semester Exams
December 19-21
1st Semester Exams
1/2 Day for Students--11:20am Dismissal
December 24, 2018-January 4, 2019
No School--Holiday Break
Helpful Links

2018-2019 Student Handbook


2018-2019 School Calendar


2018-2019 Bell Schedules


PLANK Informational Flyer


2018-19 Teacher Office/Tutoring Hours


Service-Learning Log


NHS Bylaws


Wellness Policy


Dual Enrollment Information


Facility Usage Policy and Reservation Form
Our Staff
Todd Simmons
MS/HS Principal
MS/HS Assistant Principal/Athletic Director
MS/HS Counselor
MS/HS Secretary
Instructional Technology Specialist